Attachment is the source of all suffering.
-- The Buddha
We went to look at some land about 1 hour to the north. Rolling hills farmland beginning to be developed. Nicely out on a almost 4 wheel drive road (a plus), on a gentle hillside. No water nor power in which but two people have yet built houses and are nagging the electric company. Subsequently land prices are still rock bottom. We aren't interested in moving out of where we are for a few years anyway. The general plan is, buy some land, targeting 5 acres or so, build a grass shack and make arrangements for borrowing water, moving mom in law out to farm to her hearts content (without nasty village politics) and be resident caretaker, build a house, using the rock outcropping I found as foundation and geothermal battery, develop as money permits, and ultimately have a palatial estate in the country.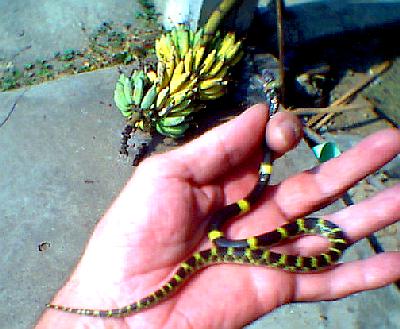 A friend owns the land, his sister is one of the people who have already built houses, and he knows or is related to nearly everyone out there. Getting other people to sell us adjacent property is no trouble. The place was also recently surveyed and real title deeds have just become available. A solid indication of things progressing. I will be talking to some locals down on the road where electricity already it. A just in case scenario. I can buy two 240 to 2400 volt transformers, hook up to someone elses power with my own meter, shoot the 2400v juice up to the land on thin wire and turn it back to 240, all for less than 10,000 baht. When I mentioned such an idea to the electric authority people they gave me a bemused look and essentially said, 'Why not? Go for it.' The other little happy is submersible deep well pumps here are dirt cheap and getting someone to pound a hole is usually a 5000 baht ordeal. (5000 baht per 100 feet down.) I neglected to mention, the property is presently a mature banana orchard.
The down side? Big time cobra country. No worry about rats! No wait, that isn't a down side. Cobra is a delicacy. You can sell them for up to 1000 baht a kilo.
One odd thing about life. If someone had come up to me in say, the 1980's and told me I would seriously be considering buying a banana and cobra farm in north Thailand in a few years.....
---